A barcode printer is a computer peripheral device for printing designed barcode tags or labels that are used in different applications.

A barcode printer is created specifically to generate barcode tags or labels that may be attached to or printed directly on tangible objects. Barcode printers are widely used to print UPC and EAN codes on retail products, industrial objects, and boxes before they are sent.
Barcode generator software supports a variety of General and Specific Bar Code Printers that may print barcodes often or in large quantities. Commonly used Barcode Printers are: Thermal printer, Laser printer, Inkjet printer, Dot-matrix printer etc.
How to choose your Barcode Printer?
To choose your barcode printer narrow the field first by determining
The size of labels that need to be printed
Its required life span
Analyze the conditions the label will be exposed to
Required media support
Durability and printing volume
Thermal Printer
A thermal printer comprises of four components - Thermal head, Platen (rubber roller) that feeds paper, spring for applying pressure to the thermal head and Controller boards for controlling the mechanism. Before starting your printing process, you need to select label roll on which print is to be taken on the basis of your designed barcode.
Thermal label printers are a great investment if you need to print barcode labels often or in big volumes. Low-cost thermal labels, which are frequently offered in rolls, are printed on using thermal label printers. Another advantage of thermal printers is that they don't require toner or ink. In this technique, you may print labels without ever running out of ink.
Laser Printer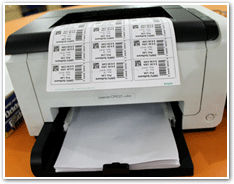 Laser printer (also called page printer) prints multiple barcodes on rolls and sheets for different application areas including retail, publishing, Healthcare and other industries.
They may be used as a document printer and can print high-quality text and graphics on paper documents (or adhesive labels) when not creating barcode labels. Any infrared scanner can easily read these barcodes because of their great density and resolution.
Both industrial settings and small company applications are not suited for laser-printed barcode labels. Label printers' lifespan is at best constrained since they cannot manufacture chemical- or water-resistant barcode labels.
DRPU Barcode Maker Software supports all types of Laser Printer (connected with your computer system) to print barcode font images.