Size and Margins Adjustment
Sometimes you might have face situations, during designing of your barcode that barcode is not get fit into the label space. To get rid of this problem, you need to do some adjustments like:
Alteration in Designed Barcode (change in barcode value, bar height and density)
Alteration in Label Dimension (change label size, margins, barcode spaces)
Change in both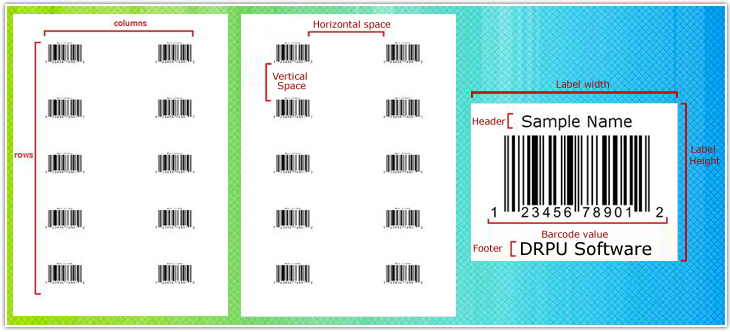 Pre Define Label Stock Print Option
In Pre define label stock print mode, there are various Label Products available that are supported by DRPU Barcode Software. You need to select Label Product along with Product Number to get its already defined print settings (columns, rows, various margins, Label width, height, paper used etc). Then set printer details as per requirement to proceed. You can also change label details by choosing custom option and save it for future reference.
Manual Print Option
DRPU Software has two main modules for creating barcode -
Barcode Designing View
and
Barcode Settings
module. Manual print settings are different in both the cases. In
Manual print settings using Barcode Settings
module, you can set number of rows and columns, label width, label height, various margins, barcode spaces and printer details as per need.
Manual print settings using Barcode Designing View
, set margin between labels and printer details. If you want to change page properties also, go to edit option of print profile.